Wedliny Domowe 6th National Convention
Aug 26-29, 2011.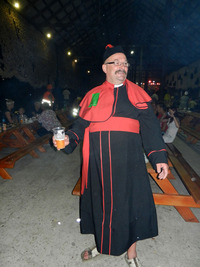 Wedliny Domowe Convention is about sauages, smoked meats, cheeses and food preservation. The main area of interest is sausage making, but free courses in cheese making, pastry and cakes are offered as well. Alcoholic spirits of all kinds are offered and make a popular conversation topic.
What is very surprising is how many people are real experts in general cooking and preservation skills. There are persons who can make all types of sausages, cheeses, cakes, pickled cucumbers and mushrooms, canning and and whatever else that belongs to cooking science. The convention is the place to pick up centuries of human knowledge. This gathering brings people from all walks of life together; professional sausage makers, hobbyists, doctors, teachers and young people as well.
All this food - hams, sausages, roasted pig, soups, salads, cakes, and drinks are offered free of charge. In addition, there is live music every night that keeps people dancing unti 3 in the morning. A truly unique experience. It is the best physical exam that one can be submitted to. If one survives those three days of feasting, there is no need to see the doctor at all.