Roller Operation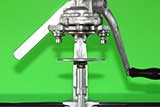 Seaming rollers, Ives-Way Sealer.
The 1st and the 2nd seaming roller have different specially countered grooves. During seaming only one roller makes contact with the can. When the lid is place on a can, the rollers are away. Then the 1st roller makes a pass, but the 2nd roller is waiting its turn. The 1st roller moves away and the 2nd roller flattens the seam.
1st Roller Operation
The curl of the lid is interlocked with the flange of the lid. The first operation should not be too loose or too tight, since there is no way to correct it later.
The 2nd Roller Operation