Juniper Sausage (Kiełbasa jałowcowa)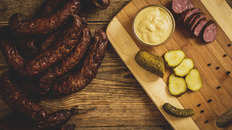 Juniper sausage is a semi-dry sausage with a very characteristic look and flavor. Freshly crushed juniper berries are added to meat and then juniper twigs and branches are added to fire during smoking. This imparts to the sausage a more pronounced juniper flavor and darker color when finished. It is always sold in the shape of a ring. The manufacturing process is the same as for Polish Mysliwska Sausage (Hunter's), but much more juniper is added.
| Meats | Metric | US |
| --- | --- | --- |
| Lean pork | 200 g | 7.0 oz |
| Pork with fat (butt) | 500 g | 1.1 lb |
| Pork with connective tissue | 100 g | 3.5 oz |
| Beef | 100 g | 3.5 oz |
| Hard fat pieces | 100 g | 3.5 oz |
Ingredients per 1000g (1 kg) of meat
| | | |
| --- | --- | --- |
| Salt | 20 g | 3 tsp |
| Cure #1 | 2.5 g | 1/2 tsp |
| Pepper | 1.5 g | 3/4 tsp |
| Crushed juniper berries | 1 g | 1/2 tsp |
Instructions
Curing. Cut meat into 5-6 cm (2") pieces, mix with salt and Cure #1. Place in a container, cover with a cloth and leave for 48 hours in a refrigerator.

Grind lean pork through 20 mm plate, semi-fat pork and fat through 10 mm. Grind pork with connective tissue and beef through 2 mm plate and then emulsify.

Beef and pork with connective tissue are emulsified in a bowl cutter (or in food processor) adding 20-30% of crushed ice or cold water. Add remaining salt and spices at this stage.

Mix lean pork with semi-fat pork until sticky, then add ground fat and emulsified mixture of beef, pork with connective tissue, and spices. Mix everything well together.

Casings: beef rounds 40 mm or more. Stuff casings firmly and form rings. Tie the ends with butcher's twine. Prick any visible air pockets with a needle.

Condition sausages for 12 hours at 2-6° C (35-43° F). Drying is also allowed at room temperature but for only 30-60 minutes.

Smoke with a hot smoke for 90-100 min, then bake for 30 min. Total time 120-130 min until the internal meat temperature is 68-70° C (154-158° F) and casings are brown. During last stage of smoking "juniper" twigs or berries are added to wood chips for an extra flavor.

Hold sausages at 18°C (64° F) or lower temperature for 12 hours.

Apply cold smoke for about 24 hours or warm smoke (24-32° C, 75-90° F) for 12 hours until dark brown color is obtained.

Dry sausages for 5-8 days at 12-18° C (53-64° F) and 75-80% humidity until sample sausages achieve 71% yield. If mold develops on casings wipe it off with a cloth. Then place sausages in a warm smokehouse and smoke with warm smoke (24-32° C, 75-90° F) for 2-3 hours. This re-freshes looks of the sausages.

Lower internal sausage temperature below 18°C (64°F).
Notes
The original manufacturing process was necessarily long in order to produce a semi-dry sausage that would be stable at room temperatures. To make a regular hot smoked sausage you may end the process with step # 8 cooling sausages).
Steps # 9, 10 and 11 were needed to make a dry version of the sausage that would last long time at room temperature.
Some recipes call for hard fat pieces. Cuts that supply those hard fats are: back fat, butt fat, kidney fat, jowl fat.