Battered Sausage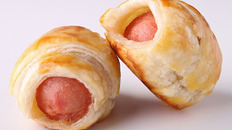 Battered sausages are a type of sausage, found all across the United Kingdom, Ireland, Australia and New Zealand. They are similar in concept to a corn dog (a hot dog sausage coated in a thick layer of cornmeal batter) but normally are not served on a stick. One variation that can be found in County Meath in Ireland is known as the "Boardsmill". Named after the small village between Trim and Longwood, it consists of a battered sausage that is split lengthways after cooking and filled with ketchup and onion.
| Materials | Metric | US |
| --- | --- | --- |
| Sausage links, cooked, as needed | 1000 g | 2.2 lb |
Ingredients
General purpose flour, 1 cup
Milk, 1 cup
Eggs, 2
Salt, 1/2 tsp
Instructions
Making Batter:

Using whisk combine all ingredients until smooth.

Roll sausages in butter.

Fry in oil until golden brown.
Notes
1 cup of flour can be substituted with 1/2 cup flour and 1/2 cup breadcrumbs. If using raw (uncooked) sausages: preheat the oven to 400° F. Cover sausages with batter. Bake for 30 minutes until golden brown and puffed.