Puerto Rican Chorizo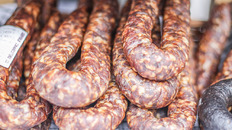 | Meats | Metric | US |
| --- | --- | --- |
| Pork shoulder or 70/30 lean/fat trimmings | 1000 g | 2.2 lb |
Ingredients per 1000g (1 kg) of meat
| | | |
| --- | --- | --- |
| Salt | 18 g | 3 tsp |
| Cure #1 | 2.5 g | 1/2 tsp |
| Pepper | 2.0 g | 1 tsp |
| Pimentón*, sweet | 5.0 g | 2 tsp |
| Pimentón*, hot | 5.0 g | 2 tsp |
| Annatto, ground | 2.0 g | 1 tsp |
| Cumin | 2.0 g | 1 tsp |
| Oregano, rubbed | 8.0 g | 2 tsp |
| Garlic, smashed | 8.0 g | 2 cloves |
| Water | 30 ml | 2 Tbsp |
Instructions
Grind pork through 5/16" (8 mm) plate.

Mix/knead ground meat with salt, cure #1, and water until sticky. Add all remaining ingredients and mix well together.

Stuff firmly into 36 mm hog casings forming 8" (20 cm) long links.

Hang at room temperature for 30 minutes.

Smoke at 48-60° C (120-140° F) for 60 minutes.

Refrigerate.

Cook before serving.
Notes
* Pimentón is Spanish smoked paprika. If not available use 5.0 g sweet paprika and 1.0 g (1/2 tsp) cayenne pepper.