Cabbage Sausage - German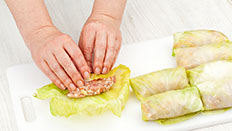 German cabbage sausage is meat stuffed into cabbage leaves. There is a great deal of confusion about German cabbage sausage recipe. Most sources quote that the cabbage sausage, lung sausage or lung sausage is a simple, strong smoked raw sausage from lung, pork and fat, which is usually cooked and added to cabbage dishes. It is mainly known in Northeastern German, Northwest German and Silesian cuisine. Sources on Danish cabbage sausage offer similar information: Cabbage pølse is a common eating in southern Denmark and in Schleswig-Holstein. In Denmark, in the Danish part of Schleswig (Sønderjylland), cabbage sausage is also known. There it is called Kål-pølse (cabbage sausage) and is eaten at New Year's Eve celebrations and in the cold seasons. The sausage does not contain cabbage but is made of pork. It is served with cabbage dishes. We have checked a number of old German cooking books and in the Genuine Art of German Cooking and Baking (Aechte Deutsche Kochkunst, 1922) by Gina Meir we have found two cabbage sausage recipes. One was just a chopped meat stuffed into cabbage leaf and the second one (listed below) included chopped cabbage leaves as an ingredient.
| Materials | Metric | US |
| --- | --- | --- |
| Pork | 250 g | 0.55 lb |
| Beef | 500 g | 1.10 lb |
| Chopped cabbage leaves | 100 g | 0.22 lb |
| Onion | 100 g | 1 medium |
| Butter | 50 g | 4 Tbsp |
Ingredients per 1000g (1 kg) of materials
| | | |
| --- | --- | --- |
| Salt | 12 g | 2 tsp |
| Pepper | 2.0 g | 1 tsp |
| Bacon | 225 g | 0.5 lb |
| Head of white cabbage | 2 kg | 2 heads |
| Water | 60 ml | 2 oz fl |
| Water | 4.75 l | 5 qt |
| Gravy | 120 ml | ½ pt |
Instructions
Clean the cabbage and remove bad leaves. Cook the cabbage in boiling salt water until half done. You should be able to separate leaves by hand. It will help if you cut out the center core.

Chop finely some leaves for stuffing, save the best ones for wrappings.

Grind pork through 3/8" (10 mm) plate.

Grind beef through 1/8" (3 mm) plate.

Chop the onion finely and fry in butter until golden.

Mix/knead beef with salt and 60 ml of water until sticky, add pork and mix/knead again. Add chopped cabbage, onions, spices and mix all together.

Put some of this mixture on each cabbage leaf and roll it around tying with a string.

Cut bacon thinly and put into a pan. Place the cabbage sausages on top and fry on medium heat until brown. Pour in the gravy of your choice (tomato based sauce with mushrooms is a good choice), cover and stew for 2 hours. Remove the string and serve.
Notes
Meat can be finely chopped or ground.
You can make a simple gravy by browning 2 tablespoons of butter, 4 tablespoons of flour and adding bouillon made by dissolving bouillon cube in water. Add 6 tablespoons of cream, salt, pepper and boil. You can also stir in 1 teaspoon of meat extract with water.
Because the leaves on the bottom can burn while the rolls cook, put a plate or wooden souvlaki skewers in the bottom of a heavy-bottomed pot. The plate should fit well in the pot. Another solution is to place a few layers of extra leaves on the bottom. Cabbage sausages are less inclined to burn at the bottom when baked in the oven.
The cooked cabbage leaves are eaten as part of the sausage.
Caraway is often added to cabbage dishes, but not everybody likes this spice.
You can freeze cabbage sausages for later.
There is a French cabbage sausage (Saucisse de Choux) stuffed in casings that contains cabbage.
The practice of using leaves as casings for holding sausage mix has been performed for centuries, for example, Nham-Thai fermented semi-dry sausage which is made with pork and rice and wrapped in banana leaves. "Cha Lụa or Steamed Pork Roll, also called Vietnamese Ham or Vietnamese bologna is a Vietnamese sausage, made of pork and is traditionally wrapped in banana leaves.
Grape leaves are popular in several Mediterranean countries and in the Middle East. It has different names depending on the region. For example Greek"dolmathes" which is meat and rice stuffed grape leaves are almost identical to Polish "gołąbki"- meat and rice stuffed in cabbage leaves. In Romania meat and rice stuffed in cabbage leaves is known as "sarmale."
What leaves are chosen for wrapping up the meat is usually by the type of plant that grows in the local area and that is influenced by the climate.