Fig Jam
Figs are low in pectin so adding lemon will help the jam to gel.
1 k g (2.2 lb) figs
500 g (1.10 lb) sugar
Pared rind and juice of 1 lemon
½ pint (8 oz) glass jars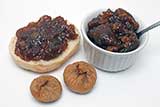 Fig jam.
Place all ingredients in a bowl and leave for 4 hours.
Bring to a boil, then cook over low heat for 45 minutes, stirring often.
Fill into glass jars and process in a water bath canner for 10 minutes.
Remove jars from the canner and let stand for 12 hours.