Sour Cherry Vodka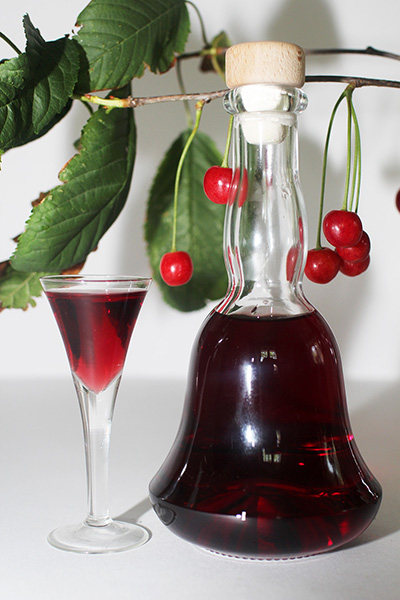 Sour cherry vodka is one of the finest vodkas. Do not substitute sour cherries with regular cherries; they will not produce anything of this quality. Using sour cherries for making top-quality alcoholic beverages is common all over the world, for example, sour cherry vodka is known in Poland as Wiśniówka (wiśnia = sour cherry).
Materials
Sour cherries
400 g (0.88 lb)
Alcohol 75% (150 - proof)
500 ml (16.66 oz fl)
Alcohol 40% (Vodka 80 - proof)
500 ml (16.66 oz fl)
Ingredients
Vanilla stick
2.0 g (1/2 stick)
Whole cloves
2
Cinnamon stick
1 cm (1/2")
Instructions
Making infusion. Break sour cherries and discard pits. Save 25% pits. Place sour cherries, 25% uncrushed pits, alcohol, and spices in a jar. Close the jar.
Macerate for 3 weeks. Shake the jar every few days.
Strain and filter. Sour cherries produce very clean juice, so the infusion is crystal clear.
Making vodka. Combine 100 g (3.52 oz) of sugar with 100 ml (3.33 oz fl) of warm water to make sugar syrup. Combine 300 ml (10 oz fl) of sour cherry infusion with 500 ml of 80-proof plain vodka. Stir the syrup and start slowly adding to the above solution.
Bottle and age for 1-2 days.
Notes
Adding more sugar will produce Sour Cherry Liqueur.