Coffee Liqueur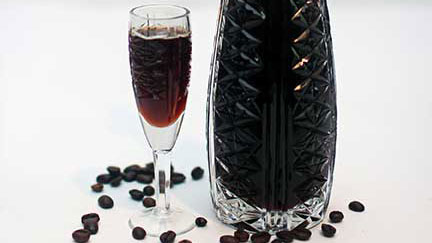 Coffee liqueur tastes great on its own but can be added to other drinks such as coffee or vodka.
Materials
Coffee infusion
350 ml
Lemon skin infusion*
40 ml
Ingredients per 1000 ml (1 liter) of alcohol
Sugar syrup 73%
350 ml
Alcohol 75°
250 ml
Instructions
Coffee Infusion:
Ground coffee, 50 g
Alcohol 50° 500 ml
2 g (1/2 stick) broken into pieces vanilla stick, 3 broken almonds, 1 clove and 1 cm long cinnamon stick
Mix all ingredients with alcohol and macerate for 2 weeks. Shake the jar twice a week.
Filter and bottle.
Mix lemon skin infusion with alcohol, add coffee infusion, and mix.
Mix infusions with sugar syrup.
Bottle and age for 1 month.
Notes
*10 g lemon skins, 50 ml 75° alcohol, macerate 3 days, strain and bottle.
You can use commercially produced lemon extract or essential oil.