Eiercognac - Polish Egg Creme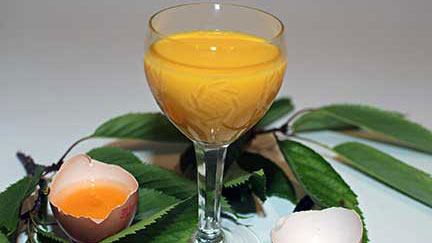 Polish Eiercognac is an Egg Creme is usually made with eggs, sugar and alcohol. Adding rum is optional.
Materials
75% alcohol
350 ml
12 large eggs
200 ml
fine sugar
400 ml
rum
30 ml
Ingredients per 1000 ml (1 liter) of alcohol
vanilla infusion*
20 ml
Instructions
Separate egg yolks from whites.
Mix sugar with egg yolks until creamy and perfectly smooth.
Continue mixing and add vanilla infusion and alcohol.
Bottle and age for one month.
Notes
*10 g vanilla, 90 ml 50° alcohol, macerate 3 weeks, strain and bottle.
You can use commercially made vanilla extract.