Cod Deviled Salad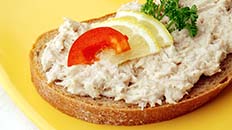 Cod potato salad in Cajun style with celery, onions and bell pepper. You could replace potatoes with rice, cod with a tropical fish like red drum and the salad will become a typical Louisiana dish.
Ingredients
2 cups flaked smoked cod
2 cups diced cooked potatoes
1/2 cup diced celery
1/4 cup diced onions
1/4 cup bell pepper
1/4 cup raw carrot
1/4 cup mayonnaise
1 teaspoon prepared mustard
1 teaspoon tabasco sauce
Instructions
Mix smoked fish with all vegetables.

Blend mayonnaise, mustard and Tabasco sauce together.

Combine everything together.