Chorizo Riojano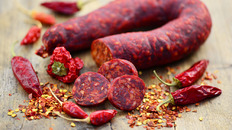 The Rioja Chorizo ​​is made ​​in the autonomous community of La Rioja (Spain). There are two varieties of the sausage: sweet and hot.
Chorizo Riojano carries PGI, 2010 classification.[>
| Meats | Metric | US |
| --- | --- | --- |
| Lean pork from shoulder, loin | 700 g | 1.54 lb |
| Pork belly, back fat | 300 g | 0.66 lb |
Ingredients per 1000g (1 kg) of meat
| | | |
| --- | --- | --- |
| Salt | 28 g | 5 tsp |
| Cure #2 | 2.5 g | 1/2 tsp |
| Dextrose (glucose) | 3.0 g | 1/2 tsp |
| Sugar | 2.0 g | 1/3 tsp |
| Pimentón (smoked Spanish paprika) | 10 g | 3 tsp |
| Garlic, minced | 12.0 g | 4 cloves |
| T-SPX culture | 0.12 g | use scale |
Instructions
Grind pork through 3/8" plate (10 mm).

Grind fat through 1/4" (6 mm) plate.

Except starter culture, mix other ingredients with ground meat. Add fat and mix again.

Hold the sausage mass for 12 hours in refrigerator.

30 minutes before stuffing mix a starter culture with 1 tablespoon de-chlorinated water

Stuff the sausage mass firmly into 36 mm hog casings. Make 12" (30 cm) loops.

Ferment at 20º C (68º F) for 72 hours, 90-85% humidity.

Dry at 16-12º C (60-54º F), 85-80% humidity for 30 days. The sausage is dried until around 30% in weight is lost.

Store sausages at 10-15º C (50-59º F), <75% humidity.
Notes
For hot Chorizo Riojano add 2.0 g (1 tsp)cayenne pepper.